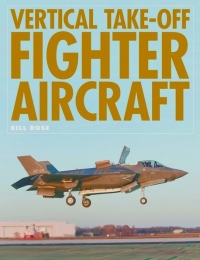 In the late 1930s, engineers and designers began to consider combat aircraft with a vertical takeoff and landing (VTOL) capability.
From a military viewpoint, the advantages were always obvious and a VTOL fighter could operated from improvised land sites, various ships or perhaps even submarines.
Nevertheless, there have always been huge technical challenges, with many concepts failing to progress beyond the drawing board.
This partly explains why the only VTOL fighter to reach operational service has been the British Harrier. In this extensively illustrated and highly detailed book, the author describes many often obscure VTOL fighter projects, along with related vertical take-off (VTO) interceptors and rocket assisted, zero length launch (ZEL) conventional fighters.
Obviously, no book on this subject would be complete without the inclusion of the Harrier and the US-UK F-35C replacement, which will be stealthy, fast and very expensive. This version of the advanced fifth-generation fighter has been selected by the US Marine Corps and will be used by the Royal Navy, when its two new aircraft carriers enter service.
Comprehensive in its coverage of a fascinating aspect of contemporary military aviation, this latest book from expert author Bill Rose, will cement his reputation as one of the key commentators on the subject.
Autor: Bill Rose / Texto: Inglés / Páginas: 176 / Precio: 42 Euros
El libro «Vertical Take-Off Fighter Aircraft», se puede adquirir online a través de la web de la librería Aeroteca, ubicada en Barcelona. Clicar en este enlace: http://www.aeroteca.com/product-es/31255